Charity Concert & Bush in Memory of Reg Murray 
130, of an expected 40, people (so more than 3 times what we expected) gathered on the afternoon of Sunday 29th of January 2023 for a concert with performances by Russell Churcher, Az-I-Am & Chord-eaux in memory of a wonderful mandolin & banjo player from the Illawarra.
Reg Murray had won back-to-back awards at Tamworth for his playing in the 1980's. He'd also played in several bands including Paddy's River, internationally known Wongawilli, & Chord-eaux.
For over 30 years Reg accompanied live bands that played for the bush dancers every Wednesday night at the Wongawilli Hall near Dapto. Sadly, he passed away aged 89 in May 2022 as a result of melanoma.
Russell Churcher, a soloist & guitar player, had the audience entranced with his beautiful, melodic voice. Az-I-Am (comprising Chris Wilson: guitar & vocals, Johnny Spillane: whistles & harmonica and Ray Marshall: dobro) were an absolute delight to listen to with Chris' haunting vocals.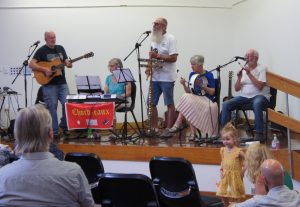 The final concert treat was Chord-eaux (Neil Rowsell : guitar & vocals, Sylvia McMullen: keyboard, Pat Murray (Reg's wife): bodhran, Johnny Spillane: whistles) with a special guest performance of vocals by Reg's son Graham Murray who had been the vocalist with Wongawilli. Hearing Graham sing "And When They Dance" and "Time Is A Tempest" stirred several members of the audience to find some space to waltz as the happiest of memories flooded back & we were reminded how much we miss hearing Graham.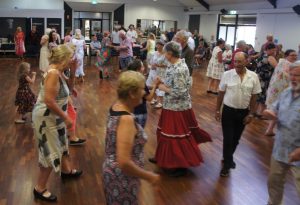 The chairs were pushed to the edges of the hall, & after a delicious afternoon tea, Chord-eaux & friends provided some great bush dance music. About 40 people couldn't resist joining in with easy dances such as the Gallopede, the progressive Barn Dance & several others.
By the smiles & the comments it was obvious that a wonderful afternoon was had by all, & in the process $1702.95 was raised for the Melanoma Institute of Australia. Thanks go to Chord-eaux, Wongawilli Colonial Dance Club Committee & members, the performers & a host of other volunteers for making the afternoon such a fabulous success.
Cris Terry,
Wongawilli Colonial Dance Club