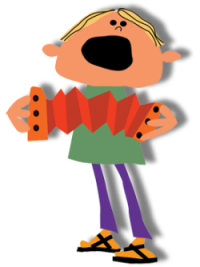 Young Folk Artist Awards 2024
The Folk Federation of NSW offers two Young Folk Artist awards annually in under 19 years of age and under 25 years of age categories to support young musicians for solo or group performance of song and/or music in a folk style. The aim of these awards is to foster an interest in folk music and to assist young people in developing their performance skills.
Each award includes a bursary of $500 along with a number of mentoring and performance opportunities over the year of the award including at the Sydney Folk Festival Youth Concert.
View our Full Terms and Conditions Here.
Bodhi Turner, the 2021 Under 21yrs Awardee speaks about her Award and how it has helped her as a young performing artist. 
2023 FolkFedNSW Young Folk Awards Announced
FolkFedNSW is delighted to announce the 2023 Awardees, Tristan and Millicent White (Under 19 Awardees) and Rory Phillips (Under 25 Awardee). We look forward to working with these exciting young talents in the coming year. Young Folk Artist Program Coordinator Craig Sinclair said, "Once again we've been very excited to see the high quality of applications for this Young Folk Artist program, and are proud to support these young artists in their development in the folk scene."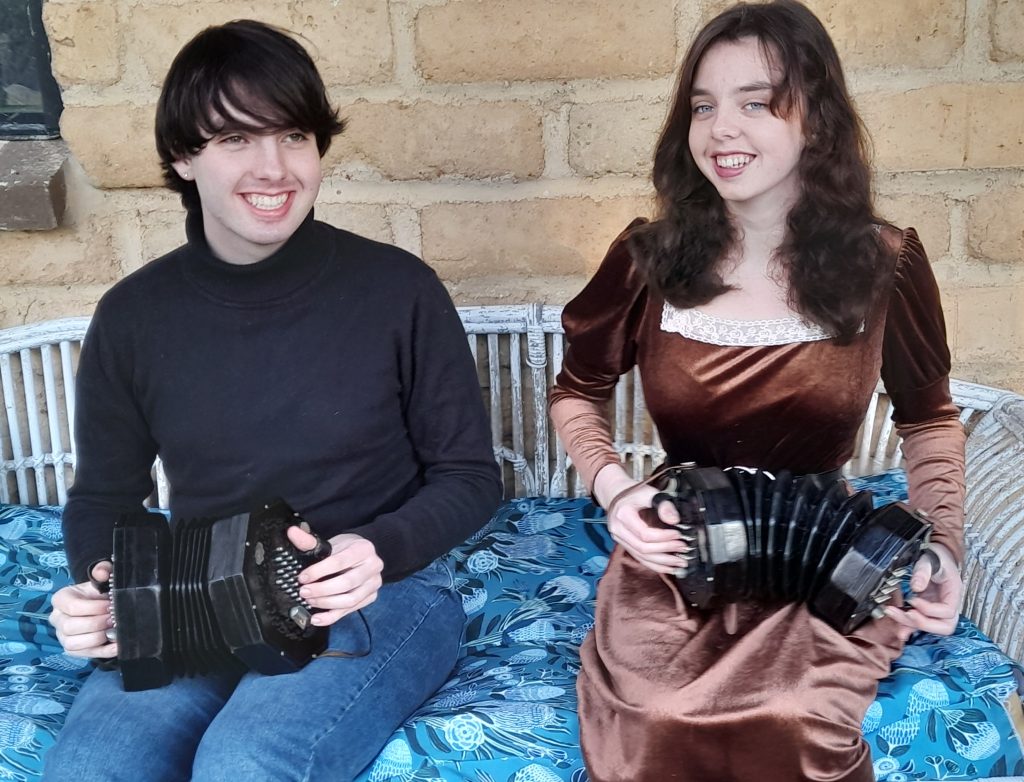 Tristan and Millicent White (Junior Category)
Tristan (17) and Millicent (14) are a brother and sister duo and English concertina players, from Wyndham in the NSW Bega Valley. Millicent is also a singer. Together they have played sessions at a number of festivals and have entertained at local community and charity events.
"The folk music scene is like nothing else. We love that we can be part of sharing and passing it on to others. This award will give us a chance to show everyone how versatile a concertina can be."
Rory Phillips (Senior Category)
Rory is an aspiring young guitarist/singer/songwriter and a music lover to his core. Rory has appeared alongside ARIA winners Fanny Lumsden, Shane Nicholson, William Crighton and Sara Storer, and opened for Grammy Winner, Billy Ocean, in Canberra.  On the folk circuit, he has shared the stage with Montgomery Church and supported  John Flanagan, Sal Kimber and We Mavericks, as well as appearing at Kangaroo Valley and Cobargo Folk Festivals and the Southern Sydney Folk Club. Rory is the youngest member of iconic Australian band, The Bushwackers.  In 2022 his single 'The Truth' was a finalist in the inaugural Environmental Music Prize.  His latest single, 'Because Boys', was selected by the NSW Department of Education's The Arts Unit for their 2023 Boys' Vocal Program.
"Through this award I am looking forward to attending further songwriting workshops and investing further in my songwriting."
Listen to our 2023 Young Folk Awardees
Tristan and Millicent White, under 19yrs Young Folk Artists performing a variety of tunes and songs recorded for World Concertina Day.
Rory Phillips, Under 25yrs Young Folk Artist performing an original song 'Nothing we can't fix' written by Rory and Allan Caswell.
Meet Our Previous Young Folk Award Recipients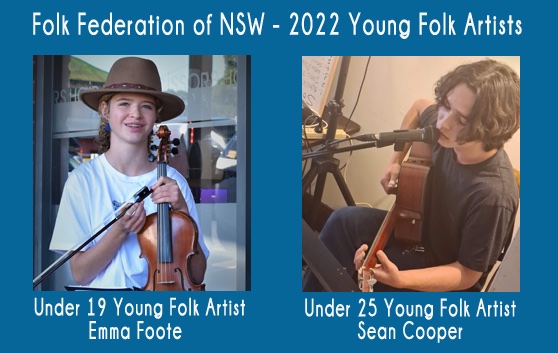 The 2022 Young Folk Artists 
Emma Foote (left) received the 2022 Under 19yrs Junior Award and Sean Cooper (right) was the Under 25 yrs Senior Awardee.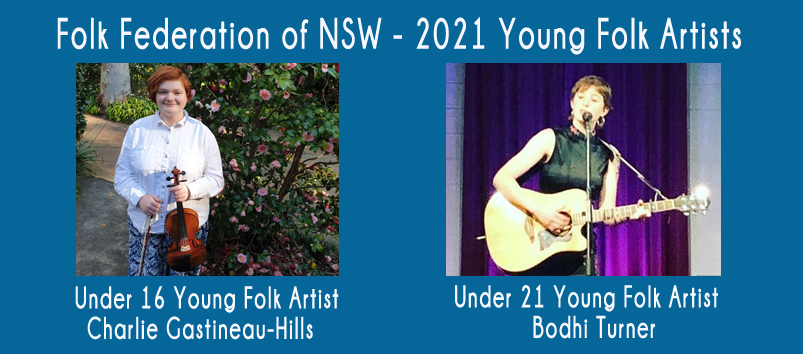 The 2021 Young Folk Artists 
Charlie Gastineau-Hills (left) received the 2021 Under 16yrs Junior Award and Bodhi Turner (right) was the Under 21 yrs Senior Awardee.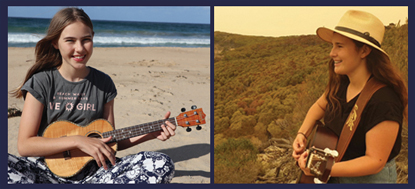 The 2020 Young Folk Artists 
Freya Peterson (left) received the 2020 Under 16yrs Junior Award and Felicity Dowd (right) was the Under 21 yrs Senior Awardee.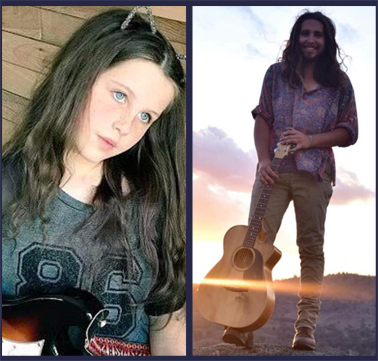 The 2019 Young Folk Artists 
Allegra Dunning (left) was the Under 16yrs Junior Awardee and Josh Maynard received the Under 21yrs Senior Award.