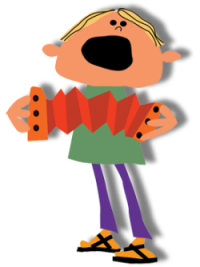 Young Folk Artist Awards
The Folk Federation of NSW offers two Young Folk Artist awards annually to support young musicians for solo or group performance of song and/or music in a folk style. The aim of these awards is to foster an interest in folk music and to assist young people in developing their performance skills.
Applications for the 2022 Young Folk Artist Awards are NOW OPEN
Applications are invited until Friday 17th June 2022. Solo performers and groups are eligible, in 'under 19' and 'under 25' years categories. Each award includes $500 cash, along with a number of mentoring and performance opportunities over the year of the award including at the Sydney Folk Festival Youth Concert. Andy Busuttil of Blue Mountain Sound is offering a 3 track demo for each of the Young Folk Artist Awardees. This includes recording, mixing and mastering.
Meet our 2021 Young Folk Awardees.
FolkFedNSW looks forward to working with these exciting young talents over the coming year.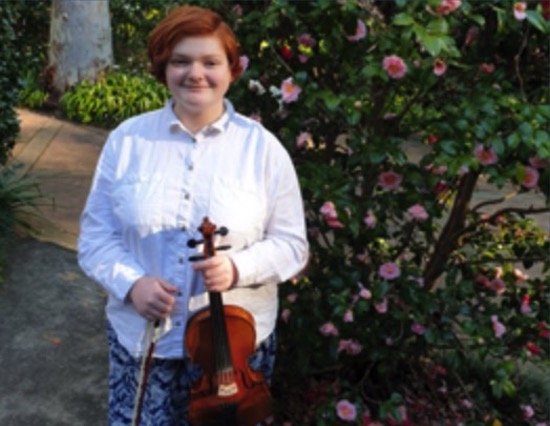 Under 16 Young Folk Artist
Charlie Gastineau-Hills – Sydney-based fiddler Charlie Gastineau-Hills, with her take on a range of traditional Celtic tunes has been named the 2021 Under 16 years Junior Awardee. Charlie has been playing the violin since the age of 8. She has played in school groups and local youth orchestras and performed many times as a member of ensembles and as a soloist in venues ranging from the local shopping mall to the Sydney Opera House.
"My Dad plays Scottish fiddle and I have been around Scottish and Irish music my whole life. I have recently started listening to a wider variety of folk music and I am loving being able to perform some of the tunes."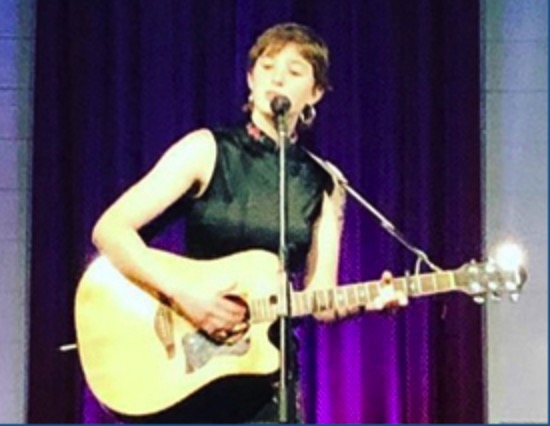 Under 21 Young Folk Artist
Bodhi Turner – South coast singer-songwriter Bodhi Turner received the Under 21 years Senior Award after impressing the panel with her heartfelt original songwriting. Performing as a solo artist Bodhi has done two professional gigs playing as a support act as well as appearing at the Candelo Folk Festival for a music camp at the crossing in Bermagui.
"I am a singer, song writer and guitarist. I have 10 original songs that are complete for performance. I performed a 3 hour performance at Mal's Pizza Bite in Bega playing a mix of originals and covers. I regularly busk around Bega."
Listen to our Young Folk Awardees
Two reels, The Scholar and Frank's Reel played on fiddle by Charlie Gastineau-Hills, Under 16yrs Junior Young Folk Awardee.
Bodhi Turner, Under 21yrs Senior Young Folk Awardee performing her original song Rock in the Sky.
MEET OUR PREVIOUS AWARD RECIPIENTS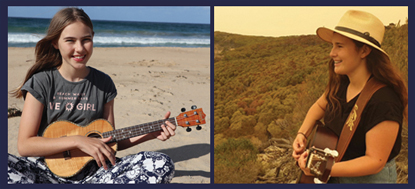 The 2020 Young Folk Artists 
Freya Peterson (left) received the 2020 Under 16yrs Junior Award and Felicity Dowd (right) was the Under 21 yrs Senior Awardee.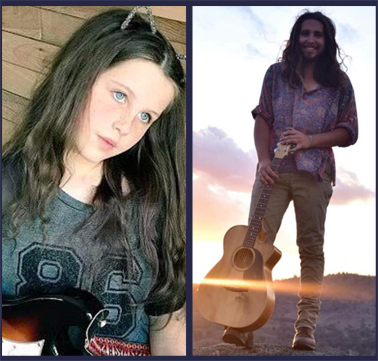 The 2019 Young Folk Artists 
Allegra Dunning (left) was the Under 16yrs Junior Awardee and Josh Maynard received the Under 21yrs Senior Award.