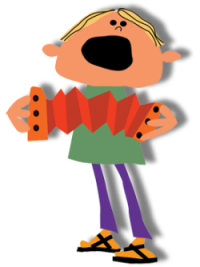 Young Folk Artist Awards 2023 now open
The Folk Federation of NSW offers two Young Folk Artist awards annually in under 19 years of age and under 25 years of age categories to support young musicians for solo or group performance of song and/or music in a folk style. The aim of these awards is to foster an interest in folk music and to assist young people in developing their performance skills.
Each award includes a cash prize of $500 along with a number of mentoring and performance opportunities over the year of the award including at the Sydney Folk Festival Youth Concert. Andy Busuttil of Blue Mountain Sound is offering a 3 track demo for each of the Young Folk Artist Awardees. This includes recording, mixing and mastering.
View our Full Terms and Conditions Here.
Bodhi Turner, the 2021 Under 21yrs Awardee speaks about her Award and how it has helped her as a young performing artist. 
FolkFedNSW is delighted to announce the 2022 Young Folk Awardees
Congratulations Emma Foote (Under 19 Awardee) and Sean Cooper (Under 25 Awardee). FolkFedNSW looks forward to working with these exciting young talents over the coming year.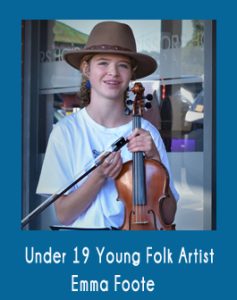 Emma Foote – Emma is a fifteen-year-old violinist from Pambula on the South Coast of NSW simultaneously studying classical violin and folk fiddle. She plays with Mike Martin and his Kameruka Bush Orchestra as well as with Dean Gray from Wolumla School of Music in various street performances, cafe and wedding gigs. As well as classical repertoire Jessica is also learning traditional Australian bush dance/folk performance practice.
"The 2022 Cobargo Folk Festival was my first folk festival and I loved meeting new people and playing music with them. I also loved how welcoming and inclusive people were."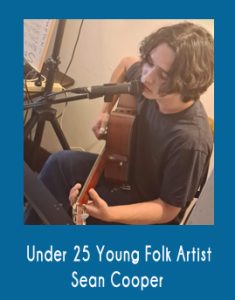 Sean Cooper – From Allambie Heights NSW, Sean performs solo acoustic guitar arrangements with a repertoire that involves traditional songs and instrumentals in the Celtic folk style as well as occasional originals.
Over the past 3 years Sean has performed at various open mic nights, markets, and the occasional gig, both as a solo performer, and as a duo.
"Receiving this award provides a great opportunity to meet likeminded artists who share the same passion for folk music and, to immerse myself in the culture as I haven't had much exposure to the Sydney folk scene yet. It will also be an excellent chance to build my performance experience.
Listen to our 2022 Young Folk Awardees
Ernie Goodman's Waltz played on fiddle by Emma Foote Under 19yrs Young Folk Awardee.
Sean Cooper, Under 25yrs Young Folk Awardee performing Avocet by Bert Jansch.
MEET OUR PREVIOUS AWARD RECIPIENTS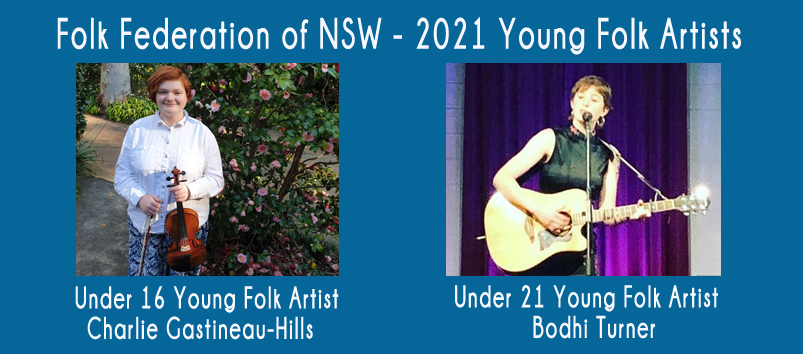 The 2021 Young Folk Artists 
Charlie Gastineau-Hills (left) received the 2021 Under 16yrs Junior Award and Bodhi Turner (right) was the Under 21 yrs Senior Awardee.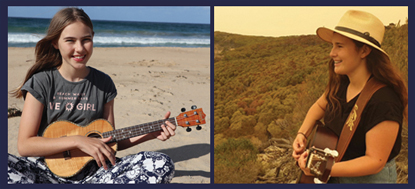 The 2020 Young Folk Artists 
Freya Peterson (left) received the 2020 Under 16yrs Junior Award and Felicity Dowd (right) was the Under 21 yrs Senior Awardee.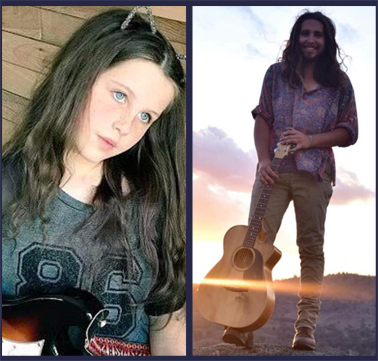 The 2019 Young Folk Artists 
Allegra Dunning (left) was the Under 16yrs Junior Awardee and Josh Maynard received the Under 21yrs Senior Award.