We Mavericks (Victoria Vigenser and Lindsay Martin) brought their entertaining, high energy and edgy brand of folk to Sydney's north last night (Friday 17 Feb) for a cracking show at the Hornsby Ku-ring-gai Folk Club. And wow, do these folk troubadours know how to pack a punch with driving rhythms and rich harmonies anchored by Victoria's solid vocals and Lindsay's superb strings.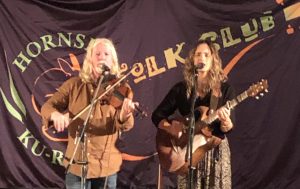 The pair performed self-penned songs from their duo debut album Grief's a Gardener demonstrating that they are not afraid to tackle the hard subjects though somehow, even these songs with their gritty presentation, managed to keep the audience on a high. Originals were peppered with the odd trad offering but still reflecting the duo's unique style and presentation.
It was nice to see people starting to venture out again to support the local folk clubs and, while we haven't quite seen a return to those pre-Covid packed houses it was a solid and highly appreciative audience that filled the Beatrice Taylor Hall in Willow Park off Edgeworth David Avenue, Hornsby. Vigenser and Martin are consummate professionals. They are masters of their craft, connecting effortlessly with their audiences through stories, music and song and providing not only fine musicianship but that up close and personal experience that is the hallmark of folk.
We Mavericks have a few upcoming gigs around NSW and you can catch them at Highlands Fest in Bowral on 4 March; The Curious Rabbit, Wagga Wagga on 5 March and Junee Licorice and Chocolate Factory on 31 March. They are also playing the National Folk Festival and St Alban's Folk Festival.