Ron Edwards (1930 – 2008) artist, craftsman and publisher of over 300 books had a passion for safeguarding Australia's unique folk heritage for future generations. He has been dubbed "the passionate observer". Indeed, this was the title of the "Ron Edwards Retrospective Exhibition" held at the Tanks Arts Centre in Cairns back in 2013 to highlight the prolificness of Ron's life and the shear extent of his work.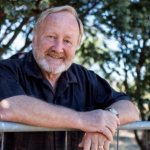 Now, this towering figure in the field of Australian Folklore is celebrated in a new and long-awaited biography by folklorist, oral historian and performance poet Keith McKenry (pictured left), tracing Ron Edwards' life and his fifty plus years as a folklore collector and publisher. Ron Edwards and the Fight for Australian Tradition will be launched by Warren Fahey at the 2023 National Folk Festival this Easter. The launch will be held in the Trocadero venue on Saturday 8th April at 6:30pm in the form of a scripted concert featuring performances by Martyn Wyndham-Read, Jan Wositzky, Jessie Lloyd, Chloe and Jason Roweth, Nicole Murray, Bruce Watson, Margaret Walters and Kevin Bradley.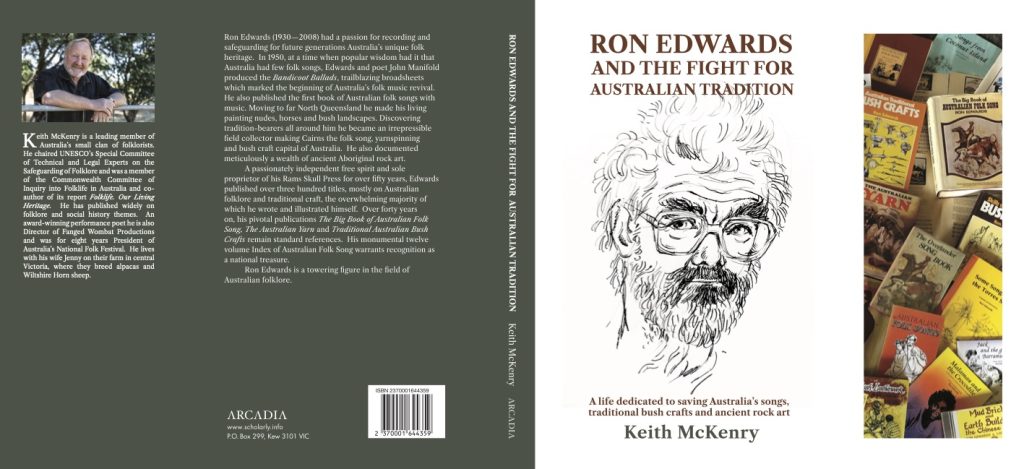 The above image shows the dust jacket of this new publication.
Ron Edwards and the Fight for Australian Tradition is a must have companion to McKenry's earlier biography More Than a Life: John Meredith. If you're lucky enough to be attending the National you'll be able to pick up your copy at the launch for the special discounted price of $39.95.
For those of you who miss the National but don't want to miss out on your copy, the book is being released by Australian Scholarly Publishing under its Arcadia imprint and will be available in the shops (by order) at the recommended retail price of $49.95.