Why is it important to support your local Folk Club / Venue?    
Folk Clubs support our folk musicians providing spaces for them to play and share their craft. They also provide a regular social occasion for audiences. One might even say they are the backbone of the folk sector. Recently we've been speaking to organisers and many say their folk clubs and venues are finding it hard to bounce back after COVID with audiences slow to return.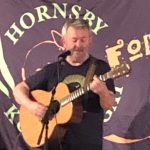 Our live music venues help to build a stronger and more vibrant folk sector so we want to see them thrive and survive. With nights closing in as Winter approaches there's nothing like an evening of live music to warm the heart and feed the soul.
FolkFedNSW is naming June our Support Your Local Folk Club Month. We'd love you to add your comments and ideas below or tell us how you plan to support your local Folk Club or Venue.
Let's get behind our Folk Clubs. We'd miss them if they weren't there!