This year's Sydney Folk Festival held in August saw FolkFedNSW's 2022 Young Folk Artists, Emma Foote – cover photo pictured with Craig Sinclair – (under 19yrs awardee) and Sean Cooper (under 25yrs awardee) publicly recognised when they officially received their Awards and performed for our folk community at the Sydney Folk Festival's Youth Concert held on the Heritage Stage (Sat 20 Aug). It was also an opportunity for festival audiences to hear the 2021 Award recipients Charlie Gastineau-Hills (under 16yrs awardee) and Bodhi Turner (under 21yrs awardee) who missed performing last year due to the cancellation of the 2021 festival because of COVID.
Awards co-ordinator Craig Sinclair who was also MC for the concert described it as, "a great showcase for some impressive young talent coming on to the folk scene from across New South Wales. I'm looking forward to working with these young folk artists throughout the year and connecting them with other opportunities to develop their music and engage with the folk community."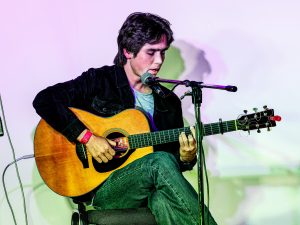 Sean Cooper (under 25yrs Awardee) performing at SydFolkFest22
The Future of Folk
A key focus of FolkFedNSW is to raise the profile of folk music within a younger cohort and, to support young musicians in the performance of song and/or music in a folk style. The Young Folk Artist Awards are tailored to assist young musicians in this endeavour including, to develop their performance skills and, to provide opportunities for them to share and experience folk music in a friendly and supportive environment.
FolkFedNSW Young Folk Artist recipients receive access to a range of opportunities including recording time, mentoring, a cash award and, performance opportunities at events including the Sydney Folk Festival. To find out more, to hear 2021 recipient Bodhi Turner talking about her experiences as a young folk artist recipient and for bios and video clips of the 2022 Awardees visit our Awards Web Page. The next round of applications will open in mid 2023.
FolkFedNSW is committed to its youth program as one of its most important initiatives and is looking to expand this over the coming years. If you have any thoughts you would like to share regarding youth activities or, if you are interested in becoming a Youth Program sponsor please contact us via the comments section below this article.