CD Review – Martin Doherty and Leigh Birkett – Biscuits on Broadway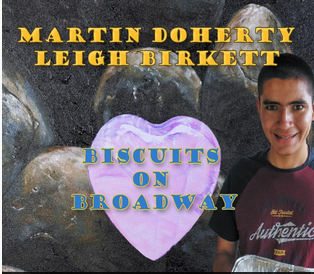 Martin Doherty and Leigh Birkett Biscuits on Broadway
© 2022 Tony Smith
This double CD of 26 tracks provides fresh relief from the stasis of recent Covid lockdowns. The songs essentially fall into three categories: the need for understanding the plight of people who are less prosperous, Martin Doherty's nostalgia for his homeland of Ireland and stories of historical interest. Some songs fit multiple categories.
The title track concerns the hard city streets where 'a little humanity goes a long, long way'. Indeed this is the album's theme. Man of the Earth by Bernie Parry tells of someone who worked hard for decades then has nothing but an 'allotment' in retirement. Ordinary Man by Peter Hames concerns another battler, a factory worker laid off to become human waste. Cry Like A Man by Jonnie Barnett, Dan Penn and Carson Whitsett and Try a Little Kindness by Curt Sapaugh and Bobby Austin augment this theme as do some of Martin's originals – Never Be Forgotten and Heart Reaching Out.
Some tracks are either written by someone in Ireland or else covered by an Irish singer. As Martin explains, some are lesser known Irish tunes and songs and others give his own thoughts on his homeland. He penned both lyrics and music on Dublin Today, Spike Island and The Road to Doolin. A feature of these tracks is the flute and whistle backing by nephew Alan Doherty, one of Ireland's finest.
Among lesser known Irish songs, the lyrics to the traditional Dark Island were learned from Martin's great friend, the late Tom Minogue. Sail On Jimmy by Albert Niland is a.k.a. Irish Pagan Ritual. The lively Man from the Daily Mall satirises how the British press in 1920 saw rebels everywhere. This song by Peadar Mac Ghiolla Chearra is set to tune of Girl from Clare by Percy French. Other covers include Bridge over Troubled Water by Paul Simon and Canadian Glen Reid's My Green Valleys with fine strings backing.
There are seven tracks with either words and music or just lyrics by Lyn Doherty: Biscuits on Broadway, Sacred Ground, The Star of Taroon, The Birthing Tree, Mystic Mountain, The Cameliers and Pelorus Jack. Lyn's compassion for people of diverse backgrounds is plain from these songs, as is her profound respect for Australia's Indigenous peoples. The four songs about Aboriginal relationships with the land are exceptional.
The Cameliers describes eight Afghan camel drivers who joined the Burke and Wills expedition with 26 camels. Spelling with an 'i' suggests they are 'cavaliers'. The song has a Middle Eastern sound at beginning. Pelorus Jack is replete with nautical terminology. A pelorus is an instrument that keeps a ship on course. These tracks show something of the depth of Lyn Doherty's research. Brass backing is suggestive of the seaman's mission.
Martin Doherty has an exceptionally clear voice and Leigh Birkett's arrangements ensure that the instruments provide background but never overwhelm the lyrics. Vocal harmonies are subtle and supportive. Graham Seal's Tea and Sugar Train has very good guitar sounding like a train whistle while his River Ran Like Murder has appropriate arrangement including chorus and guitar interlude. The traditional Ramble Away has beautiful mandolin backing.
The musicians are Martin Doherty (lead vocal, guitar), Leigh Birkett (guitars, bouzouki, mandolins, bass, keyboard, orchestral arrangements, programming, backing vocals), Alan Doherty (flute, whistle), Rebecca Daniel (violin) and Ian MacKenzie (uilleann pipes). Nigel Davey and Kevin Shortall (accordions) and Tola Custy (violin and viola) join from Ireland. Gordon Hamilton is the whistler, Tara Gray and Lyn Doherty provide backing vocals. Five year old grandson Arthur with help from dad Matt sings Black is the colour.
Production was at Brays Lane Studio and FolkLAB with additional recording in Dublin. Leigh oversaw the artwork. These songs are presented tastefully, provoke thought and compel further listening. Biscuits on Broadway is an exceptional album presented in true folk style.