Events
Traditional Graffiti + Sweet Songs & Soft Guitar share the bill @ The Loaded Dog.
February 22, 2020 @ 7:00 pm

-

10:30 pm

$18 – $20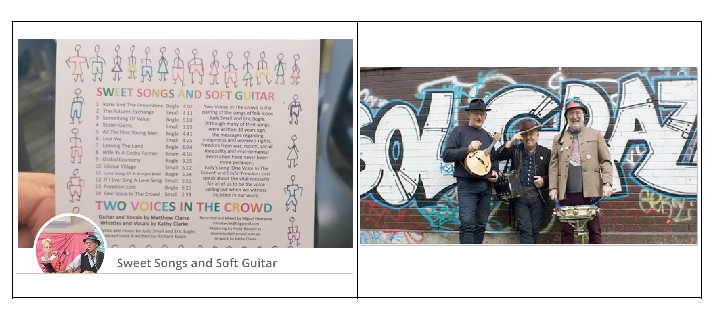 Traditional Graffiti was the title chosen for the second Wheeze & Suck Band album
back at the turn of the millennium when beer was tuppence a loaf. When The Pump,
Johnny Red Tips and Muddy decided to carry on playing together following the
departure of Woody in late 2016, we needed a new name, and a new outlook.
Traditional Graffiti was originally coined by former Wheezer Lol 'The Undertaker'
Osborn. Not only was it a clever play on the Led Zeppelin album title 'Physical
Graffiti,' which resonated with our robust approach to performance, but it also
spoke to a sense of eclecticism and 'belonging to the street' which was at the heart
of what we did and where we come from.
Although Traditional Graffiti is still based around a core of UK roots musicians
and highly experienced Morris dancers, the musical focus has evolved to embrace a
more eclectic range of cultural influences, as well as a repertoire of irresistible
original songs and tunes.
If you like a good chorus, a laugh, a good story, or a bit of a dance … we're here to please!
~~~~~~~~~~~~~~~~~~~~~~~
The name Sweet Songs and Soft Guitar is inspired by the lyrics of Eric Bogle's song Kate and the Dreamtime Land referring to the beautiful ambiance of session music and songs around the camp fire shared with friends. Sweet Songs and Soft Guitar is an uplifting experience in the folk tradition. Kathy and Matthew Clarke perform songs of Love, Hope, and Caring for the environment and each other. Kathy's stunning vocal clarity is supported by Matthew's gentle guitar style.
"Two Voices in the Crowd" performed by Sweet Songs & Soft Guitar is a song project of more than thirty songs written by the Australian folk icons, Judy Small & Eric Bogle.
Judy Small was very pleased to hear about the project. I love the idea for Two Voices in the Crowd. Eric and I have been old mates for decades now and it's often occurred to me that our songs could be paired. Actually, I wrote "From the Lambing to the Wool" after I'd been listening to "Now I'm Easy" and wondered what the wife's story would have been if she hadn't died in the second verse! (Judy Small 14/8/2019)
Eric Bogle, on hearing the recordings, said I liked it, and I especially liked the fact that you let the lyrics speak for themselves with no unnecessary intrusive musical arrangements (Eric Bogle 25/11/2019)
Back Hall, Annandale Neighbourhood Centre, 79 Johnson St, Annandale
Disability access, supper available, BYO. $20/18

Enquiries & bookings – Sandra  9358 4886
CORONAVIRUS / COVID-19 UPDATE
Please note that any of the events listed above may change or be CANCELLED at short notice. The status may not always be updated in time on this website. Where possible please check phone numbers, email or booking and Facebook links provided. Please ensure you comply with current government and health guidelines when attending live events.