Events
Traditional Graffiti + 40 Degrees South @ The Loaded Dog – cancelled again due to lockdown!
October 9, 2021 @ 7:30 pm

-

10:30 pm

$20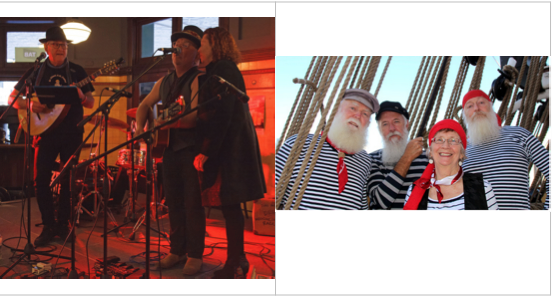 Cancelled due to covid lockdown, but we hope to fit this concert in later in the year, we can't let covid win!

new date – Saturday 9th October   (2nd Sat) – cancelled again – due to a new lockdown!

Traditional Graffiti is the exciting roots music band that has evolved out of Australia's ever-popular gang of ex-pats, 'The Wheeze & Suck Band'. Ian 'The Pump' Macintosh (Melodeon, guitar, Harmonica), John 'Red Tips' Milce (Percussion and japes ie: he hits things hard!), Nigel 'Muddy' Waters (Mandolin, Cello Mandolin, Harmonica & Guitar) & Rhonda 'Harmony' Mawer (Vocals, Whistle, Castanets, Guitar) continue their unique readings of English-based traditional, ceremonial and contemporary folk material, but now embrace both the strong Australasian and North American influences that have influenced their lives over the years.
Forty Degrees south is an archetypal trad-style acapella folk group singing maritime songs and other robust material concerning Australian social, industrial and political history; choruses, harmonies and wit abound, They also perform finely-crafted original material, some accompanied. They now have a CD!
Tickets $20, cash at the door. Sign in using QT codes in the usual way
Disability access, tables available, no supper, so BYO $20
Enquiries & bookings – reply to this email, or call Sandra  9358 4886
Back Hall, Annandale Neighbourhood Centre,
79 Johnston St, Annandale – door opens 7 for 7.30 start

Saturday 24th July    Margaret & Bob Fagan + Coolfinn
Saturday 28th August    Solidarity Choir + Derek Dowding
Saturday 18th September (3rd Sat)   The Thompsons + The Last  Aurochs
Saturday 9th October   (2nd Sat) Traditional Graffiti + 40 Degrees South
Saturday 23rd October   Bruce Watson & support Song Brother
Saturday 27th November    Shortis & Simpson + Shiny Bum Singers
CORONAVIRUS / COVID-19 UPDATE
Please note that any of the events listed above may change or be CANCELLED at short notice. The status may not always be updated in time on this website. Where possible please check phone numbers, email or booking and Facebook links provided. Please ensure you comply with current government and health guidelines when attending live events.