The Beez (Berlin) at Humph Hall
January 24, 2020 @ 7:00 pm

-

9:30 pm

$15 – $25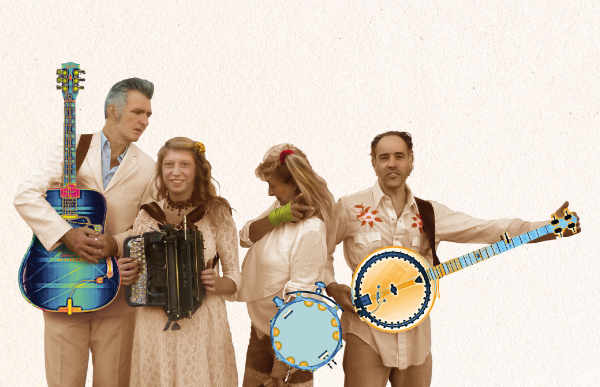 The Beez – that cabaret band from Berlin – have become festival favourites in Australia these last ten years and now – oh Lordy! – they've just graduated from their famous "Sitzdisco" (dancing while seated) to "Moshpitzen" (mosh pitting) with the addition of fabulous all-dancing, all-singing drummer Annette Kluge.
Hailing from Hamburg, Annette has catapulted those toe tappin Teutons to the dance floor while still retaining The Beez acoustic sound and soaring four-part harmonies.
Once purveyors of excentric cover versions of songs from the Balkans to the Baltic- "The originals can only be considered second best to The Beez' wonderfully unique interpretations" (Berliner Morgenpost) – The Beez now 'cover' their own compositions as well, creating a bittersweet and truly diverse potpourri of genres. their trademark cabaret sensibilities never far from the surface.
Accordion chanteuse and native West Berliner Deta co-founded the legendary Berliner cabaret venue Chameleon shortly after the fall of the Berlin Wall and drafted Sydney boy Rob Rayner, singer and guitarist, and finger picking San Franciscan Peter Delia on banjo and dobro.
The Beez play an average 120 shows a year, primarily in Europe, but extending to major folk festivals in Canada and Australia.
The Beez have also appeared on ABC TVs Spicks and Specks.
Visit their web site.
Related Events