Events
Sentimental Journey (Vov Dylan & Glenn Amer) at Humph Hall
June 9, 2019 @ 2:00 pm

-

4:30 pm

$15 – $25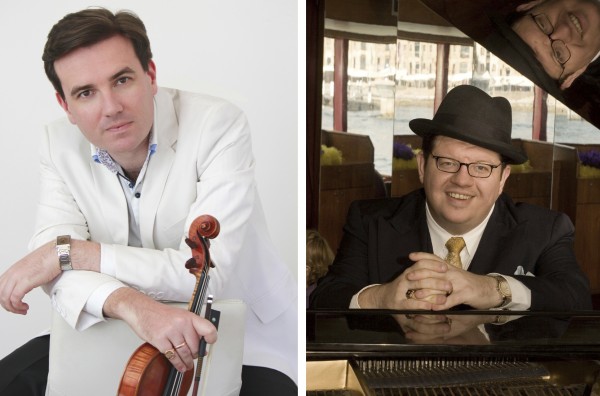 A musical journey through over a hundred years of songs from 'light classical delights' to the standards of 'the American songbook' through to the Musical Theatre hits of recent years.
Vov Dylan (Australia's Andre Rieu) and Glenn Amer (the voice of Mario Lanza and the fingers of Liberace) join forces to take audiences on a musical journey filled with great stories and humour and of course great melodies.
Vov Dylan, a violinist who's talents were first recognised at age of 21 months and has spent the rest of his life with Violin in hand and audience in front. He has performed throughout the world on concert stages, cabaret stages and theatres as his generation's leading Variety Instrumental act specialising in presenting the Classics in a down to earth easily accessible manner. He has performed and presented on radio, TV and movie's and as a recording artist has released 7 albums to date, with a further 6 albums due throughout 2016. He is a contract player to Fanfare Classics with distribution of his albums globally via Universal, EMI and MGM! Vov Dylan's strength is in being able to make the Violin sing straight to the heart while getting your foot to tap in joy of the music and leave your jaw dropped on the floor from a virtuosic display that can only be delivered by The World's Fastest Violinist"!!  Visit his web site.
Glenn Amer, a unique entertainer, is the only artist in the history of recordings to have made acoustically recorded cylinders, pianola rolls and compact discs. He was the youngest pianist to ever record pianola rolls, having made his first recordings for the Mastertouch Piano Roll Company when he was 17. Glenn has been working with singers since his first concert at the age of eleven. He cannot remember how many singers he has played for, but for many years was the exclusive accompanist to Rita Hunter CBE and Horst Hoffmann. Glenn's first love was opera and he has worked as a pianist and conductor with Opera Queensland, Pacific Opera and Opera Australia. In addition to everything above, Glenn is musical director for The Seven Sopranos and their debut album for ABC Classics shot to the top of the charts when it was released.  Visit his web site.
CORONAVIRUS / COVID-19 UPDATE
Please note that any of the events listed above may change or be CANCELLED at short notice. The status may not always be updated in time on this website. Where possible please check phone numbers, email or booking and Facebook links provided. Please ensure you comply with current government and health guidelines when attending live events.