Luke Plumb and Kate Burke Instrumental Workshops at Fairlight Folk
February 23 @ 2:00 pm

-

5:00 pm

Free – A$45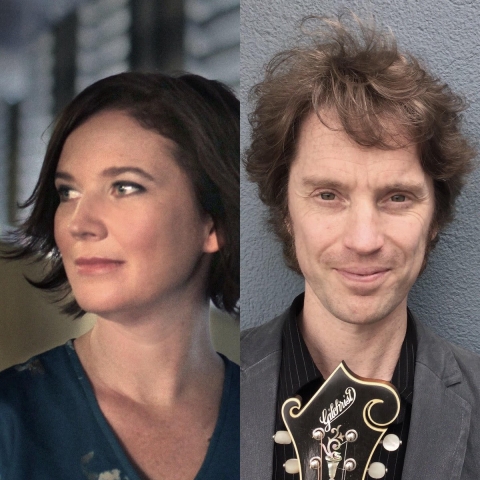 The Workshops will run  during the afternoon of Saturday 23rd February 2019 in the church space at the back of the Fairlight Folk venue.
Kate Burke & Luke Plumb Duo" at Dorrigo FestivalFolk and Bluegrass Festival
2.00 pm – 3:15 – Luke Plumb – Mandolin & Bouzouki (Intermediate level)
3:15 – 3:45  – afternoon tea (& catch up time if session starts a little late)
3:45- 5.00 – Kate Burke – DADGAD and Open Tuned Guitar (intermediate to advanced level)
In the open tunings guitar workshop we will primarily look at DADGAD and Open G tunings, with some variations. We'll examine how techniques like string dampening can give us control over chord voicings; the colours that we can add by playing with different capo positions relative to the key of a song; and also fingerpicking and pick-strumming techniques and rhythm. The workshop will set you up to write songs or accompany other players in open tunings, and to develop the open tuning skills that you might already have.
You don't need to be well-versed in open tunings to take this workshop – just a reasonable amount of confidence on the guitar in any style is enough. I'll provide printed chord shapes, but bring along a pencil and paper as well as any device that you'd like to use to record parts of the workshop (audio and/or video).
Kate
Price $15 per workshop  or $25 for both
Concession entry price for anyone who does a workshop of $20
Usual entry is $25
Followed at 7:30 with performances by "Luke Plumb & The Circuit" and "Kate Burke & Luke Plumb Duo" at the Fairlight Folk Acoustic Lounge
We encourage workshop attendees to consider heading off for a couple of hours for a swim/ dinner etc and then come back for the show which starts at 7:30. Doors open at 7pm   . We might let them stake a seat out before they go.
To book for the workshops fill in the form below and then use the payment information provided to pay. When payment is confirmed your place in the workshop will be confirmed.
PLEASE NOTE: Your place in a workshop will only be assure when you have paid. See payment details below.
Any problems contact us at workshops@folkfednsw.org.au
Luke Plumb 
Luke Plumb has established a reputation as a driving force in acoustic music on the global stage. He has worked with the Scottish acid croft folk band "Shooglenifty", with Peter Daffy and his own band "The Circuit". He has been a collaborator and solo performer, producer/sound recordist for artists such as the late Michael Kennedy, "Kate Burke & Ruth Hazleton" and "The Mae Trio". He has recorded and toured with Irish folk luminary Andy Irvine.
Luke Plumb has established a reputation as a driving force in acoustic music on the global stage. Luke witl share some of his tips on playing mandolin and bouzouki as a tune and accompanying instrument and teach you some pieces to inspire your playing. BYO 8 stringed instruments
Kate Burke
Kate Burke has been singing and performing as a multi-instrumentalist for many years, and has won much acclaim as a member of Irish/Australian traditional band "Trouble in the Kitchen" as well as in a lauded duo with Ruth Hazleton & with "Pete Wild and the Only ones" on multiple instruments including trumpet. Kate is a headliner on any folk festival stage and has played and recorded with many artists including Andy Irvine .
Kate is in demand as a session guitarist and album producer, and has performed music for film and television. An award-winning and highly-accomplished songwriter, Kate's songs have been performed and recorded by such artists as "Muireann nic Amhlaoibh (Danu)" and "Tolka".
Kate is passionate about community music, and is the director of the  Bega Valley Children's Choir. She has appeared as a soloist at the Sydney Opera House for a season of Bush Babies' Proms.
Come and learn some tips & gems from a gifted open tuned guitarist. BYO guitar
As a Duo
Kate Burke and Luke Plumb share a love for 1970s Irish folk revival music, having obsessively absorbed the music of the era – in particular Planxty's revolutionary treatments of traditional songs. Since then they have each toured with Andy Irvine, with both being featured on Andy's most recent album Precious Heroes, which Luke produced.
Kate & Luke now bring their formidable instrumental skills, strong vocals and creative minds to making groove-based, complex interpretations of traditional song.
On line ticket sale for Fairlight Folk performances at  https://www.eventbrite.com.au/e/fairlight-folk-luke-plumb-the-circuit-tickets-54209334579
There are still some vacancies in both workshops however they are  on this Saturday so you won't have time to do a bank transfer.
If you wish to book in now please email workshops@folkfednsw.org.au and we will let you know if you have place and arrange payment with you.