Events
Garland/Fine + Paul Spencer @ The Loaded Dog @ Addison Road Centre for May 2019 only
May 25, 2019 @ 7:00 pm

-

10:30 pm

$18 – $20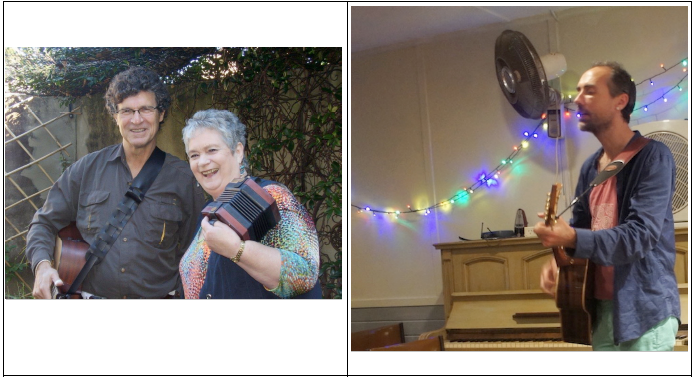 for this month only, due to problems with hire of the Annandale Neighourhood Centre we will be at the Bush Music Club Hut at Marrickville – details below     door opens 7 for a 7.30 start

60 minutes from each act
GARLAND/FINE
Carole Garland A native of the English/Scottish Borders, and was brought up within the traditions of Border Ballads, Northumbrian song, and Barn Dance music, which fits onto Carole's concertina so well. As a singer she has won many competitions at Border Music Festivals, but now likes to cast her nets into wider pools too numerous to mention. She has always been active in producing/staging folk music, and was the Founder of 'The Loaded Dog' folk club in Sydney, still happily trotting along with Sandra Nixon on the end of the lead. Since moving to Newcastle she has spent a few years as Bookings and Publicity Officer for Newcastle & Hunter Valley Folk Club. Since meeting Michael Fine, the emphasis has shifted back to performance work and causing beautiful events to happen.
Michael Fine is a Sydney boy who fell in love with folk music in his youth and has never lost his passion. He played as a regular in the Wayside Chapel in Sydney's Kings Cross for two years. He soon joined the Folk Club at the University of Sydney where he played on a regular basis with various mates and artists, many of whom went on to become lifetime friends. Over the years he studied classical guitar, played in a few rock groups and was a long-term member of the famous Solidarity Choir. But since moving to beautiful Woy Woy on the Central Coast, he has been inspired to return to his folk, roots, blues and acoustic roots.  Singing with Carole Garland has been a great joy and has opened up some of the most beautiful and engaging repertoire. Their voices and their instruments seem to belong together.
~~~~~~~~~~~~~~~~~~~~~~~~~~~~~~~
Paul Spencer writes quirky comic political folk songs to entertain the activist in you or re-energise the jaded cynic (and sometimes to indulge the cynic, for a bit of fun). Using some folk tunes and some original tunes, Paul's songs come from the human experience of the social change movement and of living in a world that's so beautiful, so alarming and so inspiring all at the same time.
Paul was brought up in the folk scene and has the folk tradition as his musical background, so re-using old tunes and parodying anything and everything is nothing unusual for him. He also composes original tunes to get just the right musical expression for his lyrics. He lists his early songwriting influences as Judy Small, John Dengate, Eric Bogle & Bernard Bolan and he later looked to Leon Rosselson, MArtin earson & Phil Ochs for benchmarks to aspire to.
Paul started writing songs in 1995 and has had bursts of songwriting proliferation in the years since then. A number of his songs have been adopted by Sydney choirs Ecopella and Solidarity Choir, as well as other trade union choirs in Australia and the UK.
~~~~~~~~~~~~~~~~~~~~~~~~~
Bush Music Club, Hut 44, Tritton Hall, Addison Road Centre, 142 Addison Rd, Marrickville – plenty of parking
Park in the carpark and follow the path on the right side of the big hall – the Hut is across the grass, decorated with dancers & musicians.  Map here https://addiroad.org.au/visit-us/   The 428 bus stops right outside the Centre
CORONAVIRUS / COVID-19 UPDATE
Please note that any of the events listed above may change or be CANCELLED at short notice. The status may not always be updated in time on this website. Where possible please check phone numbers, email or booking and Facebook links provided. Please ensure you comply with current government and health guidelines when attending live events.