Friday 19th October George Mann
October 19, 2018 @ 7:30 pm

-

11:00 pm

$20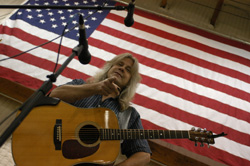 George Mann sings songs from the last century of labor and social activism, and his own songs are powerful and funny takes on the state of things. His concerts are part singalong, part history lesson, and he can make you shout for joy, send chills down your spine or bring tears to your eyes in the same set.
George created and produced the "Hail to the Thief!" anti-Bush CD series, which featured such folk legends as Tom Paxton, Utah Phillips, Billy Bragg and Magpie, and his work with veterans, unions and anti-war groups has kept him on the front lines for more than 20 years. He recently produced a new compilation CD, "Until You Come Home: Songs to Heal the Wounds of War," and his latest solo CD, "For the Road and the Sky," was released last year.
Expect to hear the best of Woody Guthrie, Utah Phillips and great folk songs, but don't be surprised to hear a classic rock song or two!
Contact Bob Armstrong to book: click here.
Related Events