Events
Fairlight Folk
August 18, 2018 @ 7:30 pm

-

10:30 pm

$20 – $25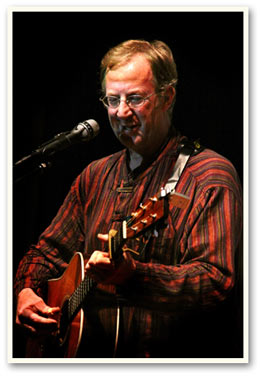 Bruce Watson Band
Bruce Watson's performances are joyful and thoroughly engaging, with witty lyrics and energetic presentation. He is a masterful craftsman of songs, be they evocative and heart wrenching, or side-splittingly funny.
Bruce is an icon of the Australian folk scene. Based in Melbourne, he plays regularly at festivals, folk clubs and other venues throughout Australia. He has received a stack of songwriting awards and had his songs covered by performers of the calibre of Eric Bogle, Joe Dolce, Greg Champion, and a host of other Australian and international performers.
He has produced six albums of original songs, received radio airplay across Australia, and he appears on many compilation albums alongside artists such as Yothu Yindi and Christine Anu.
Eric Bogle has described him as "the best songwriter I have seen in a long time." Melbourne folk institution The Boite says, "Bruce Watson is a wordsmith, a teller of tales, a spinner of yarns he tells with passion and integrity. An Australian folk hero!"
http://www.brucewatsonmusic.com/
Westminster
Westminster is a project developed by Sydney musicians Jeremy Smith and Liam Hogan. It encapsulates the musical collaboration of two childhood friends who have been playing music together their entire lives.
​
Jeremy Smith is a singer-songwriter based in Sydney who has been performing for a decade. He has been greatly influenced by the American singer-songwriter movement of the early 1970s as well as his Irish heritage.
Liam Hogan is one of the most in-demand drummers and keyboard players in Sydney, having toured extensively and worked on countless musical projects with local artists.
​
The combination of original music and the reinterpretation of the work of troubadours from all over the world allows Westminster to present a unique catalogue of old and new. Or something like that…
The Dixie Chooks
The Dixie Chooks (Wendy Ealey and Moira Tyers) hail from the northern burbs of Melb and have been playing together for 10 years. They perform as a duo but also as the sidekicks to Bruce Watson.
If you like country/blues/folk with 'layers' of harmonies and strong arrangements then we reckon you'll love the Chooks. Think Joan Baez meets Grace Slick hitting their fifties and going like the clappers to get their songs and sounds just right.
They have played festivals including Yackandandah, Newstead, Wintermoon, Tamar Valley, Kangaroo Valley, Fleurieu and Maldon folk festivals, entertaining audiences with material which often speaks to the experiences of woman kind as they wend their way through the nightmare which is galloping middle age and plain old ordinary life. But there's nothing ordinary about this pairing of voices and musical spirits. They are equally at ease paying tongue in cheek homage to much loved 'lurve' ballads as they are giving songs with a bit of social bite a good airing.
Moira Tyers is a multi award winning singer/songwriter from West Preston. Awards include Port Fairy Folk Festival 2005 Best song for Peace, Tolerance and Understanding for her song '"Why Not Let a Mother" and Hot Pick Award for Pacific Song writing comp N.Z. 2005 for "Until you're Old". Moira plays an array of instruments, including guitar, fiddle and piano accordion.
Wendy Ealey has been singing around the Melbourne folk scene writing and performing solo, choral, jazz, classical, instrumental and political songs. Also a multi-instrumentalist, Wendy plays guitar, mandolin, ukulele and kazoo!
CORONAVIRUS / COVID-19 UPDATE
Please note that any of the events listed above may change or be CANCELLED at short notice. The status may not always be updated in time on this website. Where possible please check phone numbers, email or booking and Facebook links provided. Please ensure you comply with current government and health guidelines when attending live events.