Events
Duke's Place Australian Songs in Concert & Session with Ten Quid Poms, Friday 9th November, 7.30 for 8pm
November 9, 2018 @ 7:30 pm

-

10:30 pm

$10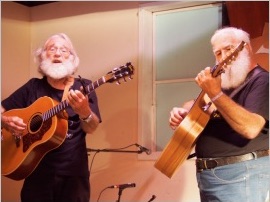 Robin Connaughton and John Warner, THE TEN QUID POMS, started singing together about five years ago,  and the duo was an instant success with a number of festival, club and concert performances, recently  including backing the German/Celtic group Cara and a stand-up ovation for a May day concert in Wollongong.
Look to them for great and creative harmonies, clever instrumentation and a lively stage presence, including the audience in their songs. They will take you into beautiful places in our heritage, as well as happy and sad ones. They have their roots in traditional Australian and English music, and compose many songs in the same genre, as well as singing those of other Australian writers, such as John Dengate and Alistair Hulett. John has written a huge number of songs, and many themed albums, including Yarri of Wiradjuri and Pithead and the Fern. The two of them collaborated to write We Made The Steel, about Robin's experiences in the NSW steelworks, very well received in England as well as Australia.
http://bushmusicclub.blogspot.com/2018/09/dukes-place-australian-songs-in-concert.html
$10, bring contribution for supper.
Bush Music Club, Tritton Hall, Hut 44, Addison Road Centre, 142 Addison Rd, Marrickville
enquiries Sandra 9358 4886 http://www.bushmusic.org.au/
CORONAVIRUS / COVID-19 UPDATE
Please note that any of the events listed above may change or be CANCELLED at short notice. The status may not always be updated in time on this website. Where possible please check phone numbers, email or booking and Facebook links provided. Please ensure you comply with current government and health guidelines when attending live events.