Events
Cap in Hand & Daniel Kelly share the bill @ The Loaded Dog
April 24 @ 7:00 pm

-

10:30 pm

$18 – $20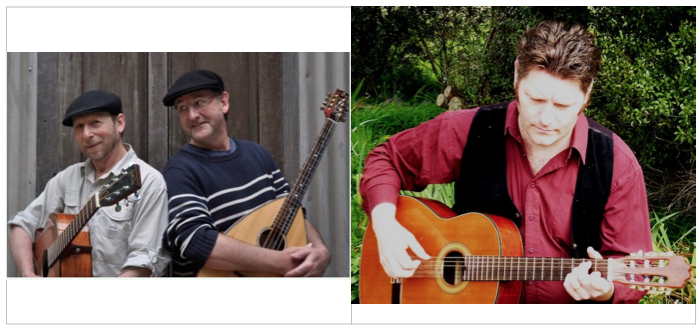 After 2 concerts at Newtown, we are back home!  So join us for a great night of socially distanced music.  Sign in with QR code, hall is currently limited to 50 people.

60 minutes each from Cap in Hand & Daniel Kelly
Cap In Hand are Dave "Fingers" Spira and Nigel "Muddy" Walters. Dave plays exquisite finger style acoustic guitar in a range of open tunings while Nigel is an accomplished vocalist and multi-instrumentalist. (Cello mandolin, guitar, dulcimer, harmonica, piano, spoons and more). Dave and Nigel have performed on radio and at folk clubs and festivals throughout New South Wales and beyond. They are both fine musicians and entertainers.With influences including Nic Jones, Martin Simpson, Richard Thompson, Joni Mitchell and David Francey their music ranges from traditional to contemporary. In addition they both write many of the songs and tunes that they perform.
Daniel Kelly – I like to collect and record folk ballads, mostly from Ireland, Scotland and England. Recordings are available on my YouTube channel. Most of the songs, being 100s of years old, have already been written about extensively. However, if something particularly interests me I will write about it on this blog. I perform regularly around the Yass area in Australia, at festivals, local cafe's and markets. I write my own music, mostly in the style of traditional ballads, and have released a few of my own albums, more information here.
Doors open 7pm for  7.30 start with a few floor spots, then 30 mins from each act before and after supper.
Back Hall, Annandale Neighbourhood Centre, 79 Johnson St, Annandale
Disability access, bring your own nibblies,  BYO. $20/18

Enquiries & bookings – Sandra  9358 4886
CORONAVIRUS / COVID-19 UPDATE
Please note that any of the events listed above may change or be CANCELLED at short notice. The status may not always be updated in time on this website. Where possible please check phone numbers, email or booking and Facebook links provided. Please ensure you comply with current government and health guidelines when attending live events.